Manufacturing
Transformative Age: IoT and Construction Industry – 1
Visit grab manufacturers in Bangalore SGF Fab Industries' website
Technology is witnessing growth by leaps and bounds. You can sit at your home and access a peer's computer from across the seven seas. The speed and scale of growth is petrifying some, like those people who are worried about AI gobbling their jobs. This state of petrification is a horse of a different color. The Internet of Things (IoT) is transformative, and its applications have pulled varied elements in its ambit. In order to fathom Iot's applications, it will be helpful to look at its practical implementation in an industry that heavily relies on action – construction.
In the construction industry, electrical wire rope hoists manufacturers in Bangalore SGF Fab industries are going against the grain to provide second to none construction equipment, cranes, and material handling equipment.
Log handling cranes manufacturers SGF Fab provide cranes that are used in transporters, trenches, erection of bulky equipment, shifting of heavy loads, mine quarries, and heavy fabrication units. With the capability of lifting loads up to 10 T, double girder EOT cranes are versatile and robust.
It is no surprise that construction equipment industry is drifting toward IoT. IoT's orbit of applications is vast. When you mull over the possibility of connecting any machine/system or juggernaut to the Internet to know the minutes of what's happening, it quickly becomes clear that the IoT has loads of advantages. Also, this blog will be published in a series of two blogs to cogently cover the topic.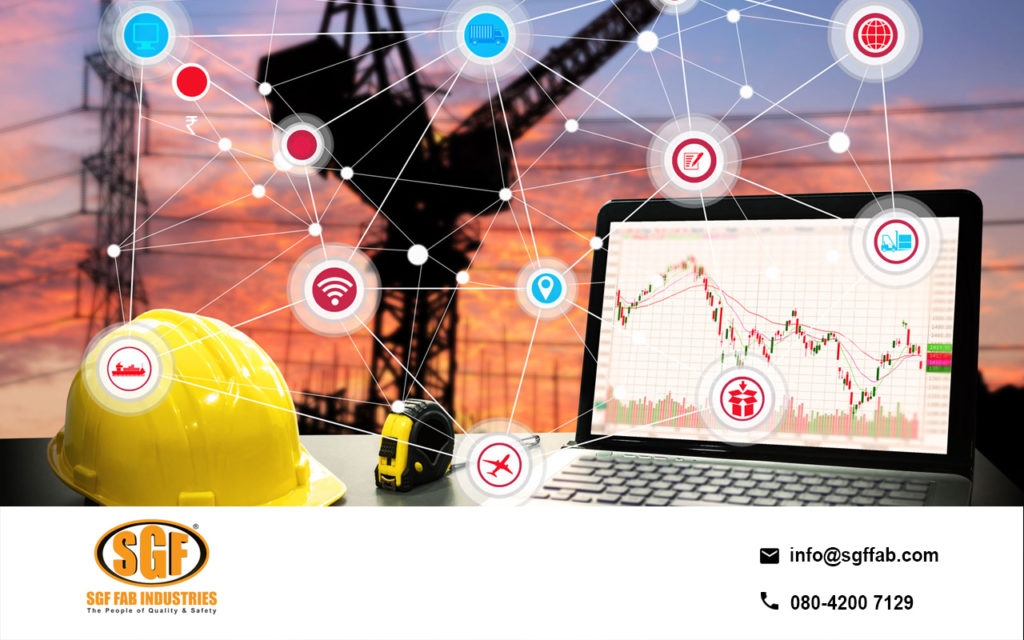 Remote Operation
If you can hook up a machine to the web either with a physical or a wireless connection, you can give it instructions remotely. It can operate without manual help in areas that would be otherwise detrimental to humans because of pollution or other deadly disasters. Similarly, wearable computing like Google Glass can help workers on-site access instruction manuals in hands-free mode, or benefit from remote support that sees what they see.
Supply Replenishment
When units of supply are labeled with RFID tags, a system on site can count them. When the count drops below a given level, the system can trigger a request from a central system to order more. Idle time goes down, and projects have better chances of being completed on time. Costs are also contained because the construction company does not need to buy in significantly more supplies than it is likely to use at any one time. Instead, just-in-time provision becomes possible automatically.
Construction Tools and Equipment Tracking
Some pieces of equipment can work only so much. A replacement should be handy to avoid wasting time in looking for another. You should also know how many cranes or excavators are located at a particular site. GPS data is already being used to monitor vehicle fleet locations. It also allows excavating or landscaping equipment to be precisely positioned on a terrain to then automatically carry out instructions using a virtual map of the digging, cutting or other terrain modifications to be made.
Equipment Servicing and Repair
If any part of any machine goes kaput, it will throw a monkey wrench into other works. Fixing machines before they break makes more sense than waiting for failure. Prevention is better than cure. Truly.